Red Team Security Assessment
Overview
Security Brigade's Red Team Security Assessment provides a comprehensive "full body work" out of your entire security infrastructure, people & processes – helping you identify the gaps and areas that need to be prioritized on your roadmap.
Our Approach to Red Team Security Assessments
The goal of a red-team assessment is to fully simulate motivated attackers targeting your organization and going after critical assets within the organization.
The Red Team Assessment engagement consists of a realistic, "no-holds-barred" attack scenario in your environment. The Security Brigade red team uses any non-destructive methods necessary to accomplish a set of jointly agreed upon mission objectives while simulating attacker behavior.
The red team closely mimics a real attacker's active and stealthy attack methods by using tactics, techniques and procedures seen on real, recent incident response engagements. This helps assess your security team's ability to detect and respond to an active attacker scenario.
Sample Objectives for Red Team Assessments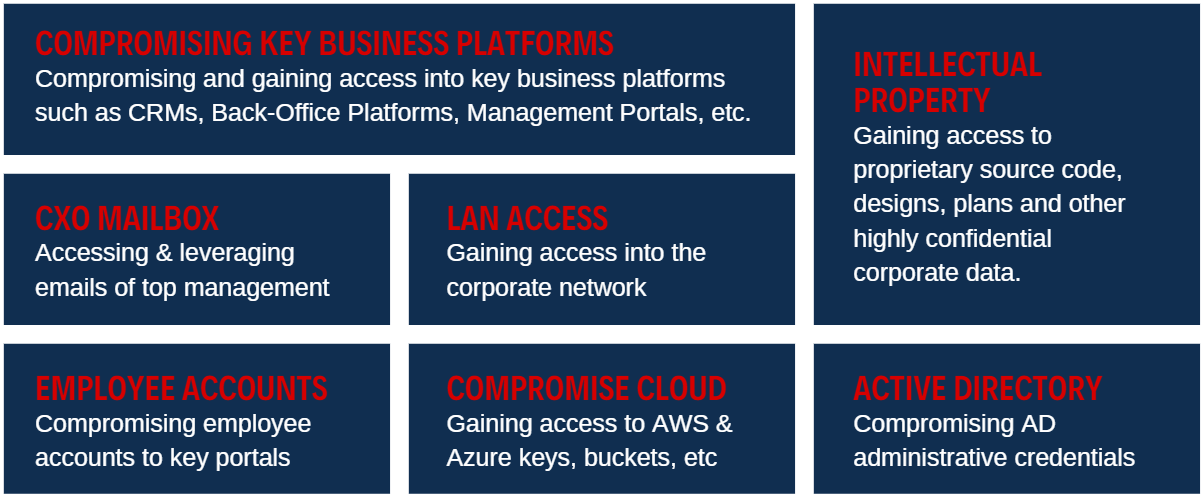 Using ShadowMap in Red-Team Assessment
ShadowMap is our award winning Shadow IT Discovery & Assessment platform & the latest innovation from the Security Brigade R&D team.
We leverage our ShadowMap platform to generate a complete picture of your global technology exposures and its associated risks. This data is cross-referenced with our Active + Passive Threat Intelligence modules to identify key risks and misconfigurations.
The ShadowMap Scan report allows our red-team to get a rapid picture of your complete technology footprint, allowing them to quickly identify easy access points into your infrastructure that can be leveraged as part of the red-team assessment.
Red Team, Blue Team and Purple Team?
Red Teams: are the attackers that are playing the role of the motivated external attacker that is targeting your organization. They are designed to test the effectiveness of an organization's defenses by emulating its adversaries TTPs in a continuous and evolving manner.
Blue Team: are the internal or partner teams responsible for building security controls, detection and response. Our team may join your Blue Team to supplement their capabilities & leverage our vast experience dealing with incidents. Blue Teams are designed to keep the organization safe from real-world attackers by understanding their TTPs and evolving the company's defenses.
Purple Team: is a single team of consultants that are the middle-ground between the red & blue teams. They are designed to enhance information sharing between the Red and Blue teams to maximize their respective and combined effectiveness.
Talk to An Expert
Speak to our experts to understand more about our security offerings.